Our industry-leading publications and videos allow you to share the latest market and economic developments with your clients to help you deliver personalized and professional advice.
Hear directly from RBC Global Asset Management Chief Economist, Eric Lascelles in his monthly and quarterly updates. Representing RBC GAM Investment Strategy Committee's (RISC) economic views, Eric shares timely insights and the expectations of RBC GAM on the global economy.
---
Monthly Economic Outlook Webcast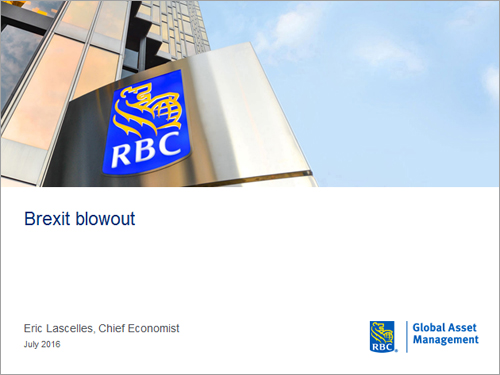 Brexit blowout - July 2016
Eric Lascelles, Chief Economist, RBC Global Asset Management, shares the latest views on the global economy and offers insight into today's economic issues.
The webcast includes an audio and slide presentation.
Launch Presentation
---
Quarterly Economic Video
Eric Lascelles - Spring 2016
In the latest instalment, Eric provides an overview of how economic activity has unfolded this past quarter in regions across the globe.
Skip directly to a chapter by clicking on a link below:
Key Highlights
We saw a bumpy end to 2015, and the trend spilled over causing a volatile start to the year. However, the financial markets have since staged a partial recovery and, although economic growth has slowed, we still see growth to a certain degree – just less than expected.
Central banks have responded to recent economic weakness with negative interest rates, but learned that a cocktail of measures – including cutting rates and expanding quantitative easing – are more effective. After raising rates in December, the U.S. Federal Reserve (Fed) is a clear outlier, although they are still scaling back plans. Yields and interest rates are likely going to stay low through 2016.
The global economy is facing evolving downside risks, but banking sector concerns early in the year were probably overblown. We see resource shock risks fading as commodity prices are not actively pushing lower. Debt risks are still quite large and possibly growing. Risk of recession in the U.S. is sitting at 25-30% - higher than normal but a recession is not expected. 
Developed economies have lost a step overall, but the U.S. economy is clearly growing with a strong job market. Growth in the rest of the developed world is moving less quickly due to tightened financial conditions, with political uncertainty as a side drag. Europe is decelerating and Japan has faced a rough patch recently, but overall things are not as bad as suggested.
Currency and stock market concerns in China are overblown as we've seen the currency stabilize. Chinese stock markets have made a bit of a rebound, and worries over capital outflows have slowed. Debt and credit issues are alive and well and we anticipate China's economy slowing to a 6% growth rate this year, and perhaps dipping into the high 5's next year.
Growth in emerging markets shows signs of stabilization, after being in a multi-year deceleration stage. Worries about corporate debt are mounting as borrowing was done on assumptions that haven't worked out as planned. Due to the resource shock and volatile politics, Brazil and Russia are struggling, but India continues to do fairly well. Emerging market equities appear undervalued.
We anticipate some growth in Canada, but not a lot. At the same time, there are huge disparities between provinces, with Alberta, Saskatchewan and Newfoundland suffering due to the pullback in resources, and Ontario, B.C. and to some extent Quebec seeing at worst normal growth if not better-than-normal growth. The year started off slow but we expect the economy will fare better once the fiscal stimulus kicks in and oil prices rise. We see a risk in the labour market for 2016, as three of the last four months have seen a decline in employment.
So far this year has been volatile, but even with substantial risks and market displeasure, we expect growth to persist. Redeeming features are found as market turmoil creates opportunities for active investors. Bonds should stay fairly expensive with the stock market remaining roughly fair valued. The U.S. dollar is likely to rise further – meaning, by extension, that the Canadian dollar is projected to fall back down. After commodity prices went too low, we are starting to see a recovery, and over 2016 oil prices should work their way up.
---
[an error occurred while processing this directive]