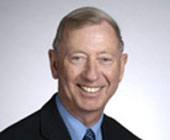 Lloyd R. McGinnis
Chair, Board of Governors
The members of your Board of Governors are proud to serve the interests of the RBC Funds and RBC Private Pools and the investors who place their trust in the integrity and professional expertise of RBC Asset Management.
The advisory Board of Governors of the RBC Funds was established in 1994 specifically to provide advice to the fund manager regarding conflicts of interest in mutual fund management.
Securities regulators have given the Board of Governors a specific role to review mutual fund conflict of interest matters identified and referred to us by RBC Asset Management and to give our approval or recommendation.
Our members have completed their orientation concerning new National Instrument 81-107, Independent Review Committee for Investment Funds and the Board of Governors has given its approvals and recommendations to RBC Asset Management.
We congratulate RBC Asset Management on its leadership in the Canadian mutual fund industry and look forward to the continuation of open communications and an effective working relationship for the benefit of the RBC Funds and RBC Private Pools.
Lloyd R. McGinnis
Chair of the Board of Governors
December 1, 2006