Being a successful investor takes knowledge, time and patience. And making time every day for investment research and analysis can be a challenge. With RBC Select Portfolios, you can invest with confidence knowing that RBC Global Asset Management is bringing a wealth of experience and expertise to managing each portfolio every day – so you don't have to.
---
30 Years of Success
Since their inception in 1986, RBC Select Portfolios have been actively managed to meet the needs of investors looking for well-balanced diversified portfolios. Take a look back to see how they've changed throughout the years, the different market environments that they've been through and how investors in the portfolios would have fared through it all.
Scan through the interactive timeline below and click on a period to view notable global economic events () and key product launches ().
Take a look at the 30 years of Select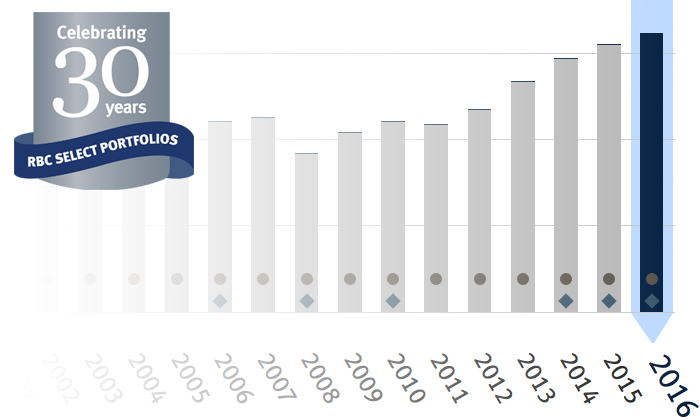 ---
Why RBC Select Portfolios?
Effective diversification
The portfolios are diversified across various asset classes based on the portfolio profile. Beyond the high-level asset allocation, each portfolio is then diversified across geographical regions, industries and companies to help increase potential returns and manage the volatility of the portfolio.
Disciplined investment process
A top-down and bottom-up approach to portfolio construction and management results in the right asset mix and security selection to not only take advantage of short-term market opportunities, but also position the portfolio for long-term success.
Delivering superior value
Each portfolio offers a disciplined, comprehensive investment approach with an MER that is well below the category median. This contributes to long-term returns and offers excellent value.
Tax-efficient monthly distributions
Series T5 offers investors the option to transition seamlessly from investing for long-term growth to drawing regular, tax-efficient cash flow. With Series T5, you receive consistent monthly distributions equivalent to 5%* annually.
With five distinct portfolios, it's easy to find the one that meets your investment goals. Whether you are a conservative investor or more growth-oriented, we have a portfolio to meet your needs.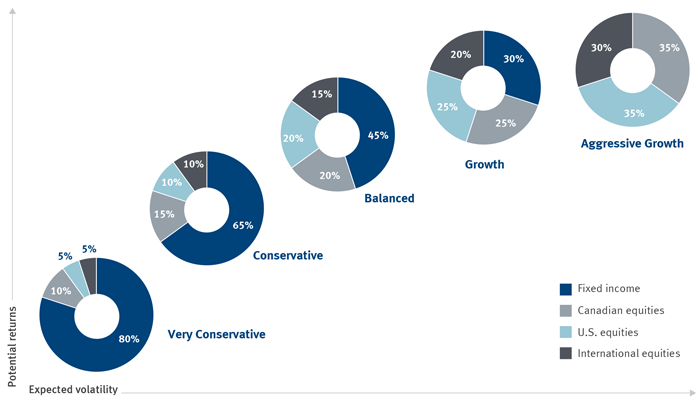 To determine the right RBC Select Portfolio for you, talk to your advisor or click on Invest Now for options on how to invest with us.
* Payouts may be adjusted as market conditions require; they are not guaranteed. The calculation for monthly distribution (cents/unit) = (previous year December 31 NAV per unit x 5%) / 12 months.
---
Fund Pages