Overview
The mutual fund portfolio is a pool of investments created from the fund manager's investment decisions, which are held in trust on behalf of the individual investors. Each fund has a defined investment objective that determines the overall management of the fund and the types of investments that can be held in it. When you invest in a mutual fund, you purchase units in the fund, where each unit represents a share of the fund's value.
---
To learn more about investing in mutual funds, see:
How do mutual funds work?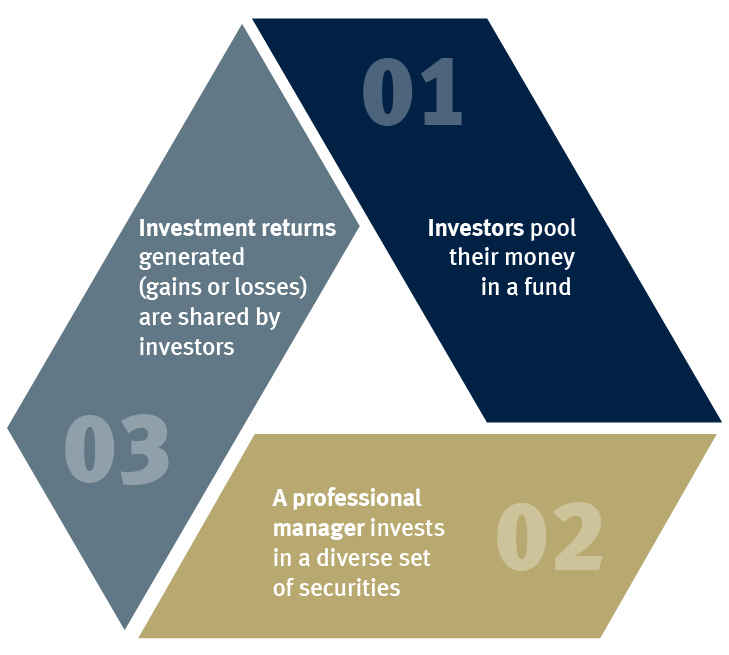 ---
To learn more about investing in mutual funds, see:
Types of Mutual Funds
A diverse array of mutual funds is available to investors, including money market, fixed income, balanced and equity funds.
Mutual funds also vary in the amount of returns generated and their degree of risk. The chart below shows money market funds are the least risky and generally have the lowest returns. While equity funds are usually the most risky but tend to have the highest potential returns.
Return vs. risk
Your advisor can help you build your portfolio, ensuring the funds you choose fit your investor profile, risk tolerance and investment objectives.
Money Market Funds
These types of funds invest primarily in treasury bills and other high quality, low risk short-term investments. Offering stability and minimal risk, money market funds deliver returns in the form of regular monthly distributions that are typically better than those of a traditional bank account. Investors looking to meet short-term goals or access funds in case of emergency often choose money market funds as an investment solution.
Fixed Income Funds
By investing in fixed income securities such as mortgages, bonds and preferred shares, fixed income funds offer regular cash flow while preserving capital. These funds typically distribute interest income and provide potential for capital gains. Fixed income funds may also be used as a way to diversify an investment portfolio.
Balanced Funds and Portfolio Solutions
Balanced funds hold a combination of equities, fixed income and money market investments. The portfolio manager adjusts the asset mix based on the objective of the fund and their view of the economy. Investors receive distributions in the form of interest, dividends and capital gains.
Equity Funds
Equity funds invest in the stocks of public companies. These companies range in size from large to small, or both, and can be located in Canada only, the United States only, other specific countries or all countries. Equity funds may also focus on companies in certain sectors such as energy, gold or financials. These funds are ideal for investors looking for potential growth over the long term.
---
To learn more about investing in mutual funds, see:
Benefits of Investing in Mutual Funds
Professional management

With mutual funds, a professional money manager is responsible for investment decisions. Rather than having to research every investment before deciding to buy or sell, you have a professional money manager there to manage it for you. RBC Global Asset Management has an experienced team of portfolio managers from diverse backgrounds with varying expertise and skills.

Access to markets

Mutual funds make global markets accessible to every investor, opening up the opportunity to participate in capital markets across the globe. With offices in Canada, the United States, Europe and Asia, our investment management teams are equipped to provide clients with the best investment opportunities available in the world.

Diversification

Mutual funds in general can hold many different investments, offering a level of diversification often only achieved with larger portfolios. Because mutual funds invest in a variety of equities, bonds and other holdings, investors can create a balanced and diversified investment portfolio with a relatively modest amount of money.
Lower costs

Economies of scale make mutual funds a cost-effective investment option. You share costs with other investors such as individual transaction and management fees.

Plus, RBC Funds and PH&N Funds have among the lowest fees of all actively managed Canadian mutual fund families†.

Liquidity

Mutual funds are considered liquid investments because you can usually redeem your units as the need arises and have your money available within two business days. You receive the price based on the unit value at the end of the day you sell.
---
To learn more about investing in mutual funds, see:
† Morningstar Research Inc. as of June 30, 2010
Costs of Mutual Fund Investing
There are different investment options available to help you reach your financial goals. Regardless of which investment you choose, it is important to understand the costs involved and how those costs affect your investment. Not all mutual funds have the same fee structure. The costs of some funds will impact your return more than others.
The less you pay for your investments, the more you keep, making the cost of investing something you should always try to minimize. Over time, minimizing costs can have a significant and positive impact on the growth of your portfolio.
Small Differences Can Have a Big Impact
Very Conservative
Conservative
Balanced
Growth
Aggressive Growth
RBC Select
Portfolios MER
1.69%
1.84%
1.94%
2.04%
2.13%
Median Category
MER*
1.91%
2.21%
2.21%
2.39%
2.49%
On an initial investment of $25,000 at an assumed rate of 8% before fees for the Balanced Portfolio,
a 0.27% difference results in an additional $1,133 in growth for the portfolio over 10 years.
* Based on median MER or Morningstar categories corresponding to the RBC Select Portfolios: Very Conservative - Canadian Fixed Income Balanced; Conservative and Balanced - Global Netural Balanced; Growth - Global Equity Balanced; Aggressive Growth - Global Equity. As of December 2015.
---
Every mutual fund has certain costs associated with it. In reviewing funds to include in your portfolio, consider these costs as part of your decision-making process:
Management Expense Ratio (MER)

The MER is the total of the management fee, operating expenses (or administration fee) and GST/HST charged to a fund each year, expressed as a percentage of a fund's average net assets for that year. All mutual funds have an MER.

The returns you earn as an investor reflect performance data that is reported after the fund's MER is deducted. For example, if your fund's investments gained 9% last year and the fund's MER was 2%, the reported return would be 7% for that time period.

Sales commissions

A sales commission (referred to as a load) is a one-time fee sometimes paid to an advisor's firm for selling a mutual fund to investors.

A no-load fund has no sales commission when a fund is purchased or redeemed.

When you choose a front-end load fund, you and your advisor negotiate the percentage to be charged, which generally ranges from 0% to 5% of the amount you invest. Mutual fund companies deduct the sales charge from the amount you invest and pay it to your dealer.

With a back-end load fund, you do not pay a commission at the time of purchase. Instead, the fund company pays a commission to your advisor's firm at the time of purchase. However, if you redeem your mutual fund earlier than the prescribed time limit, you will pay a redemption fee to the fund company.
Short-term trading fees

Mutual funds that are intended for long-term investing typically charge fees if units are redeemed within a short time period (e.g. 30 days). The proceeds of this fee go directly to the fund, benefiting the remaining unitholders. The fee is designed to deter excessive trading and offset the associated costs. RBC Funds and PH&N Funds suitable for short-term investing (such as money market funds) are excluded from this charge.
---
To learn more about investing in mutual funds, see:
RBC Funds and PH&N Funds have some of the lowest fees in the industry.
MERs of our funds are commonly seen as among the lowest of all actively managed funds in Canada. For more information on costs associated with mutual funds, review our fact sheet Understanding the Cost of Mutual Fund Investing or talk to your advisor.